South Korea – Group MONSTA X is reported to be debuting their first sub-unit which will be named as Shownu X Hyungwon. They will make their debut on July 25, 2023 by releasing the mini album THE UNSEEN.
Ahead of their debut, Shownu X Hyungwon has released a promotion schedule for their unit debut. So how is the information? Come on, check out more.
Shownu X Hyungwon Releases Promotion Schedule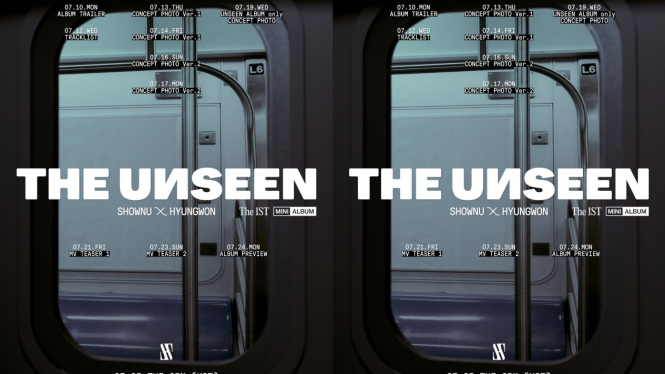 Launching from Sports Donga on June 30 2023, Shownu X Hyungwon introduced the promotional schedule for their first mini album titled THE UNSEEN on MONSTA X's official social media.
The image gives off the feeling of observing an empty subway train from outside the door, thereby heightening curiosity about the concept of the debut album of MONSTA X unit Shownu X Hyungwon.
According to the released schedule, Shownu X Hyungwon will release an album trailer on July 10, followed by a tracklist on July 12 to July 14, as well as two version concept photos on July 16 and 17. Then on July 19 will release a special concept photo.
On July 21 and 21 2023 Shownu X Hyungwon will display a music video teaser for the main song as well as an album preview on July 24 2023. Then the release of THE UNSEEN will be held on July 25 2023.