PeekSeleb – Kimlo soup is a traditional soup originating from Central Java, Indonesia. In this soup, the main ingredients are chicken, prawns, fresh vegetables and noodles.
Kimlo has a rich and savory taste, different from the usual chicken soup. The following is a delicious and successful recipe for Kimlo soup to increase your appetite:
Materials needed: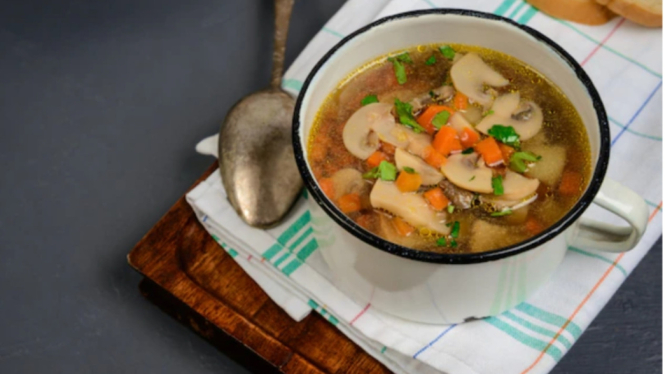 Photo : Freepik.com
✓500 grams of chicken (choice of chicken according to taste)
✓200 grams of shrimp, peeled and cleaned
✓100 grams of yellow noodles, boil and drain
✓2 liters of chicken broth
✓2 spring onions, thinly sliced
✓2 stalks of celery, thinly sliced
✓2 cloves of garlic, finely chopped
✓2 cm ginger, bruised
✓2 carrots, cut obliquely
✓100 grams of cabbage, thinly sliced
✓100 grams of ear mushrooms, soaked and thinly sliced
✓2 tablespoons of vegetable oil for stir-frying
✓1 tablespoon of soy sauce
✓ Salt to taste
✓ Pepper to taste
Kimlo soup steps: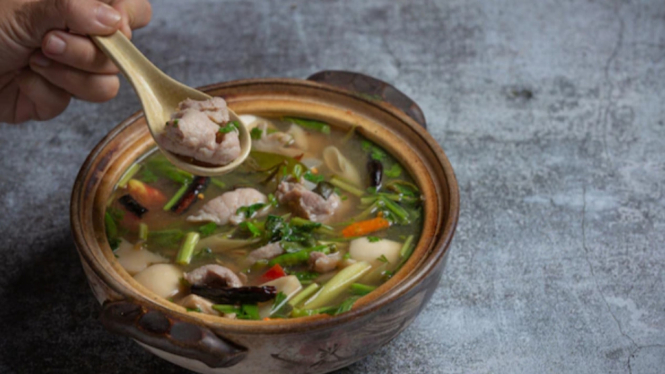 Photo : Freepik.com
1. First, boil water in a large saucepan. Add the chicken pieces to the boiling water and cook until the chicken is cooked and tender. Remove the chicken from the broth and set aside.
2. Heat vegetable oil in a large skillet. Saute garlic and ginger until fragrant. Add the prawns to the pan and cook until they turn pink. Remove the prawns and set aside.
3. Put the carrots in the pan and sauté until slightly soft. Add the cabbage and ear mushrooms to the pan and sauté briefly.
4. Pour the chicken stock into the pan and let it boil. After that, add the boiled chicken and cooked prawns to the pan.
5. Add enough soy sauce, salt and pepper to give it the right taste. Stir well and let the soup boil again.
6. Finally, add the yellow noodles, spring onions, and celery to the soup. Cook briefly until the noodles are cooked and the vegetables wilt.
7. Kimlo Soup is ready to be served! Pour the soup into bowls and serve it hot.
8. Kimlo soup can be served as a delicious and nutritious main dish. Its delicious taste and variety of ingredients make it a popular choice in Indonesia. (rth)