South Korea – Former 2NE1 member Sandara Park released her solo debut song titled FESTIVAL with Indonesian translation.
FESTIVAL This is the main song in her solo debut mini album, Sandara Park, and is a remake of Uhm Jung Hwa's 1999 song with the same title.
Through the song FESTIVAL, Samdara Park also collaborated with the legendary singer and actress Uhm Jung Hwa, who has recently become increasingly popular after her role in the drama Doctor Cha.
Here are the lyrics to the song FESTIVAL performed by Sandara Park, complete with Indonesian translation, let's scroll!
FESTIVAL Lyrics – Sandara Park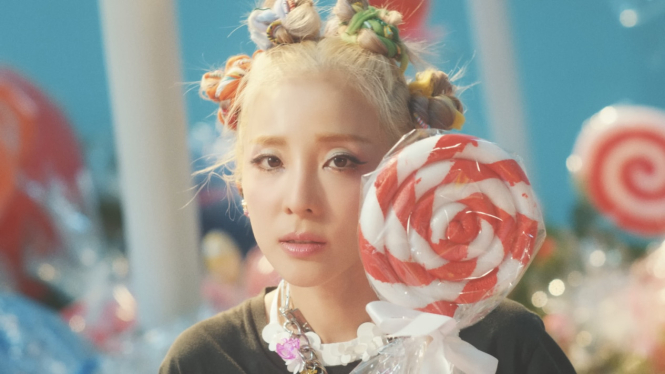 Photo : 1theK/YouTube
Meomchwoitdeon naldeureun meolli
Hwanhi balgaoneun sesange, hi
Taeyang wiro
Ajjilhan riding
Nopi naraoreul junbiga doen geoya
Yesang mot han sokdoe
Gakkeum geobi nal ttaen wae
Seolleineun geonji (Seolleiji)
Ijeneun sumji aneullae
Eoduwotdeon nal dwie
Jinagamyeon da byeolgeo anin ge doel teni
Hanadulssik kyeojin starlight
Tteollyeooneun nae mam
Sijakdwaesseo good time
Eojen goodbye
Ttwieoolla sorichyeobwa
Ijeneun unneun geoya, smile again
Haengbokan sunganiya, happy days
Mamkkeot oechyeobwa
Good, I'm good
Nuni busil maeil maeil
This is my first day
Ready for a change
Oneuldo haengbokaejil jumuneul georeo
Everything I want, I'll do
Jeulgyeo bollae nun ape pyeolchyeojil naeil
In or out, wonhamyeon eodideun
Gal su isseo, come with me now
Gibun joeun nalssi
Yegami joa waenji
Kkumkkudeon nari doel geonman gateun
I neukkimeul mideo just do it
Sone Japil Deuthan Sungan
Kkumkkwowatdeon daero
Gomin gadeukaetdeon
Aaron goodbye
Nopi nara sorichyeobwa
Ijeneun unneun geoya, smile again
Haengbokan sunganiya, happy days
Mamkkeot oechyeobwa
Good, I'm good
Nuni busil maeil maeil
Gidarin scene
Dalkomhan feelin'
Nae mam gadeuki beonjyeoonikka
Geu eotteon nari wado
Honjaga anini, I'll be okay
La-la-la-la-la-la-la, smile again
La-la-la-la-la-la-la, happy days
Mamkkeot oechyeobwa
Good, I'm good
Nuni busil maeil maeil
This is my first day
Ready for a change
Oneuldo haengbokaejil jumuneul georeo
Everything I want, I'll do
Jeulgyeo bollae nun ape pyeolchyeojil naeil
FESTIVAL – Sandara Park Lyrics with Indonesian Translation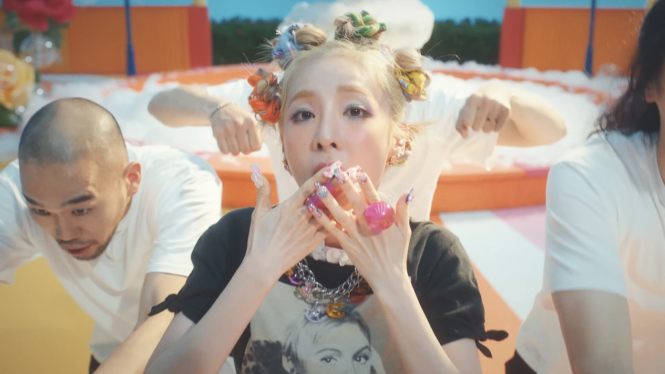 Photo : 1theK/YouTube
The days of stopping are still far away
In the bright world, hi
above the sun
dizzying horse
I'm ready to fly high
at an unfathomable speed
Sometimes when I'm scared, why
Are you excited? (thump)
I'm not going to hide now
after dark days
Everything will be nothing when it passes
The starlight flashed one by one
my trembling heart
It's started, great time
goodbye yesterday
jump and scream
I laugh now, smile again
These are happy moments, happy days
Scream all you want
Fine, I'm fine
Blinding, every day
It's my first day
Ready for a change
Mantra to be happy today
Everything I want, I will do
I want to enjoy the tomorrow that will spread before my eyes
In or out, wherever you want
You can go, come with me now
nice weather
You have a good feeling
Looks like it's going to be a dream day
Trust this feeling, just do it
When you think you can get it
as you dream
full of worries
Goodbye Aaron
fly high and scream
I laugh now, smile again
These are happy moments, happy days
Scream all you want
Fine, I'm fine
Blinding every day
waiting scene
Sweet feeling
Because it spreads to fill my heart
no matter what day comes
Aren't you alone, I'll be fine
La-la-la-la-la-la-la, smile again
La-la-la-la-la-la-la, happy days
Scream all you want
Fine, I'm fine
Blinding, every day
It's my first day
Ready for a change
Mantra to be happy today
Everything I want, I will do
I want to enjoy the tomorrow that will spread before my eyes