PeekSeleb – Soto Padang is a typical dish from West Sumatra, Indonesia. This soto has a rich taste and is different from soto from other regions.
With thick broth and distinctive spices, soto Padang is a favorite for many people. Let's take a peek at the Soto Padang recipe that you can try at home!
Padang Soto Recipe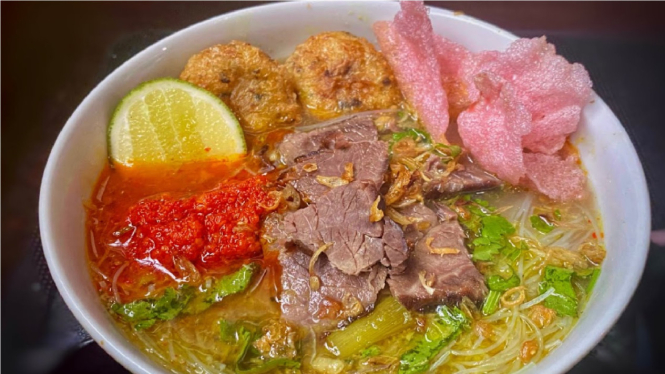 Photo: YouTube/Cheche Kitchen
Ingredients:
500 grams of beef (option: beef, ribs, or strips), cut into pieces
1 liter of water
2 stalks of lemongrass, bruised
2 bay leaves
3 pieces of lime leaves
2 cm galangal, bruised
3 scallions, finely sliced
2 stalks of celery, finely sliced
2 tablespoons of cooking oil
2 tablespoons of fried shallots (as garnish)
Salt to taste
Powdered Ingredients:
5 red onions
3 cloves of garlic
1 teaspoon coriander
1/2 teaspoon cumin
3 candlenuts, roasted
Complementary seasoning (according to taste):
Cayenne pepper sauce
Fried onion
Noodle crackers or emping crackers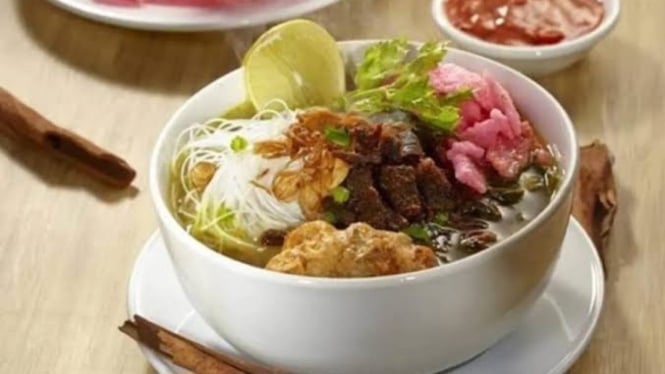 Photo: TOPWISATA
How to make:
First, boil the beef in water until tender and broth forms. You can also use a pressure cooker to speed up the boiling process.
Remove the meat and cut into thin pieces. Set aside the meat and broth separately.
Heat cooking oil in a pan, then sauté ground spices, lemongrass, bay leaves, lime leaves, and galangal until fragrant and cooked.
Add in the sliced ​​beef, stir well with the spices until the meat is coated with the spices.
Pour the beef broth into the stir-fry, allow it to boil.
Add salt according to taste, and cook the soup over low heat until the spices are absorbed and the gravy is slightly thickened.
Serve soto Padang in a bowl, sprinkle with spring onions and sliced ​​celery. Add fried shallots as a garnish on top.
Serve soto Padang with accompaniments such as chili sauce, fried shallots, and noodle crackers or emping. You can also serve it with warm white rice as a companion.
Soto Padang is a delicious and appetizing dish, suitable to be enjoyed on various occasions. Its delicacy lies in the blend of spices typical of West Sumatra which gives it an authentic aroma and taste from the region of origin.
Enjoy trying the Soto Padang recipe at home and enjoy the delicacy with your family or friends!