South Korea – NCT Dream officially made their comeback on July 17 2023 at 18:00 KST by releasing their 3rd full length album titled 'ISTJ'. Due to the enthusiasm of the fans, the pre-orders for the album reached 4.1 million copies.
The album 'ISTJ' has 10 tracks. Previously, they had released the song 'Broken Melodies' on June 19.
However, today NCT ​​Dream released the MV for their main song entitled 'ISTJ'. Let's take a peek at the lyrics and translation below.
ISTJ- NCT Dream Lyrics with Romanization Hangul
introvert
Gamgakjeok
Sagojeok
Pandanjeok
Neol haeseok
16 Words
Pillo eopseo
'cause I know some
Ilgo itji
You-Ology
Teullimeoomneun wonchik
Silsuhamyeon an dwae
Wanbyeokae boineun neodo
Gojang nagon haneun Function
Chagoki ssain neoui
Gamjeong soge deureogallae
Eojireopigo sipeo
Let's get it done
Neoran ai neomanui routine
Geu teukbyeolham
Neukkindaero neol pureobolge
It's the way you are
Glamorous
Dangerous
Neoui sesangen eopdeon tteugeoum
Let's talk about it
Let's get down
Let's get down
Matgyeo bwa
Make me proud
Lesson 2
Got that juice
Sangsang jung
breaking rules
Yo so hot
Hot like soup
Neoreul wonhae
Geurae wonhae
Naega isangjuuijaragodeul malhae (too hot)
Eoneu byeoreseo on geonyago munne (too far)
Nan teukbyeolhi dijaindoen type
Ne jageun hanmadiro
Naneun tto kkumeul kkwo
Seolleneun envied da mworam
Nan geunyang neomyeon doeneunde
Amureon yego eopsi
Neol derireo gago sipeo
Gamdongsikigo sipeo
Let's get it done
Neoran ai neomanui routine
Geu teukbyeolham
Neukkindaero neol pureobolge
It's the way you are
Glamorous
Dangerous
Neoui resembles eopdeon tteugeoum
Let's talk about it
Let's get down
Let's get down
Matgyeo bwa
Make me proud
Waiting for
I'm just waiting for ya
Neon ujuboda maneun geu jupasu
Naege deonjyeo
There's no time
Seodureugo sipeojin bam
Gaman honja nuwo byeolman seneunde
Saenggae geurae I'm yours
No one can compete
You're all I want it
Big Flash nuni busin
Nega gunggeumhae
Honjain neo
Naega isseo
Na yeogi isseo
Neoran ai neomanui rutin (Why can we figure something out)
Geu teukbyeolham
Neukkindaero neol pureobolge
It's the way you are
Glamorous
Dangerous
Neoui resembles eopdeon tteugeoum
Let's talk about it
Let's get down
Let's get down
Let's go
Make me proud
ISTJ – NCT Dream Lyrics with Indonesian Translation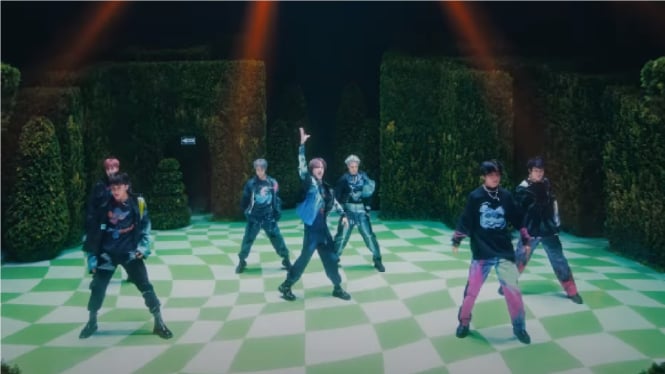 Photo : YouTube/SMTOWN
Closed
sensory
as it happens
judge
null interpretation
16 Words
I do not need
because I know some
reading
You-Ology
unquestionable principle
can't make a mistake
You also look perfect
Functions that tend to break
stack you
I want to get into the emotion
I want to mess up
Let's finish
A child like you, your own routine
that special
I'll let you go the way I feel
It's your way
Glamor
Dangerous
Heat that is not in your world
Let's talk
Come on down
Come on down
leave it to me
Make me proud
Lesson 2
Got that juice
imagine
Break the rules
You are so hot
Hot like soup
I want you
Yes, I want to
They say I'm an idealist (too hot)
They ask what planet you from (too far)
I'm the custom designed type
in your little words
i dream again
What makes your heart flutter?
I only need you
without any notice
I want to pick you up
I want to impress
Let's finish
A child like you, your own routine
that special
I'll let you go the way I feel
It's your way
Glamor
Dangerous
Heat that is not in your world
Let's talk
Come on down
Come on down
leave it to me
Make me proud
Wait
I'm just waiting for you
You have more frequencies than the universe
throw me
No time
One night I wanted to hurry
I lie alone and count the stars
Think yes I am yours
Nothing can compete
You all I want
Big Flash is dazzling
I'm curious about you
You are alone
I have
I'm here
A kid like you, your own routine (Why can we come up with something)
that special
I'll let you go the way I feel
It's your way
Glamor
Dangerous
Heat that is not in your world
Let's talk
Come on down
Come on down
come again
Make me proud. (bbi)