Klaten – Klaten chicken soup is one of Klaten's culinary delights that you must try when visiting this city.
Among the many types of delicious chicken soup in Klaten, one that is popular and has become an icon is Pak Min Chicken Soup. How about a review of Pak Min Klaten's Chicken Soup? Let's take a peek at the review below.
Pak Min's Klaten Chicken Soup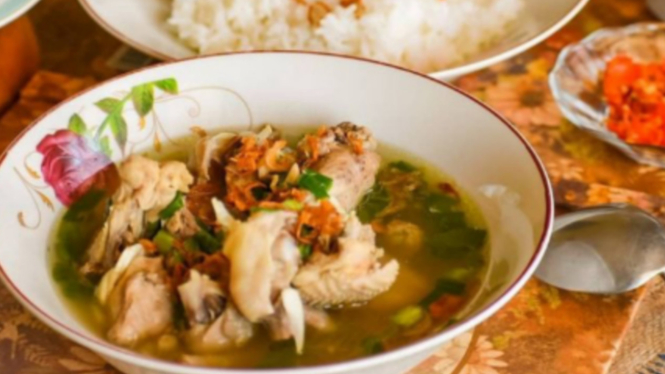 When visiting the Klaten area, Central Java, maybe you will start to notice the many chicken soup shops lining the roadside.
One of the places to eat chicken soup that attracts attention is Sop Pak Min Chicken which has neon green banners with red writing.
If you see this place to eat, you should turn your vehicle around to stop by and taste the quite phenomenal Klaten Chicken Soup.
Basically, Pak Min's Chicken Soup has a simple dish. Namely a bowl of chicken soup that has a clear broth that tastes savory and fresh without any complementary vegetables.
Really just chunks of chicken smothered in broth. However, the fresh and delicious taste will make you feel less if you only eat one portion.
You can enjoy this Klaten Chicken Soup with warm white rice. For the filling, you can also choose you know. Some are filled with full thighs, chest, head, wings or mixed.
Apart from the winning taste, this Pak Min Klaten Chicken Soup has a fairly cheap price, starting from IDR 8,000.
History of Pak Min's Chicken Soup in Klaten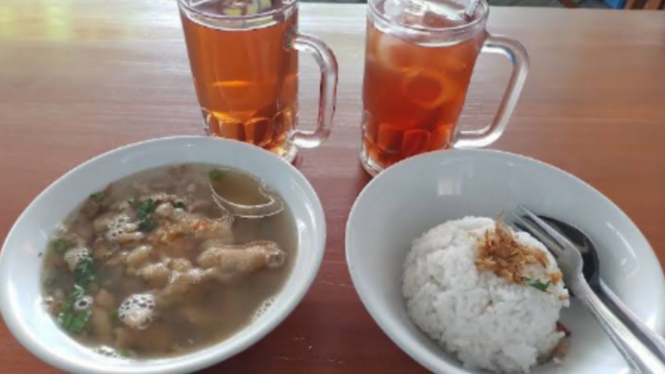 For those of you who are curious about the history of Pak Min's Chicken Soup, originally this Klaten Chicken Soup was opened in front of the Klaten Bawasda Inspectorate decades ago.
Pak Min himself is a resident of Klaten. Then after Pak Min's death, Pak Min's Chicken Soup recipe was then passed on to his four sons, namely Pak Min's Chicken Soup (Pak Sipit), Pak Min's Chicken Soup (Pak Mul), Pak Min's Chicken Soup (Pak Tri), and Pak's Chicken Soup. Min (Pak Ragil).
Until now, Pak Min's Chicken Soup stall already has branches in every city in Indonesia. So for those of you who want to taste it, you don't have to go all the way to Klaten!