Medan – Soto Medan is one of the culinary specialties of North Sumatra which is widely known by the people of Indonesia. This gravy dish is mesmerizing with its delicious, rich flavour, and has an interesting history and culture behind it.
Whether you are a foodie or a traveler looking for new experiences, exploring the world of Soto Medan will give you an unforgettable culinary experience. So, what is the Medan soup recipe like? Come on, take a peek at the article below!
Origins of Soto Medan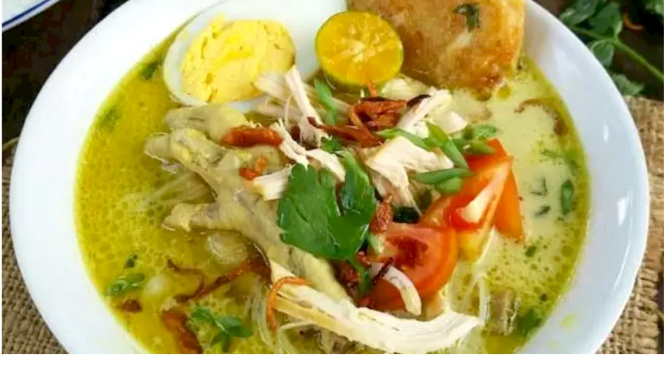 Photo: orami
Soto is a meat and gravy-based dish that is commonly found in various regions in Indonesia. Soto Medan became famous for its distinctive spices and unique taste.
In the Soto Medan dish, the beef is thinly sliced ​​and cooked with spices such as cinnamon, cloves and cardamom, giving it a distinct taste and fragrant gravy. The influence of Chinese cuisine has also influenced the taste of Soto Medan with the addition of yellow noodles or vermicelli as a complement.
One of the main attractions of Soto Medan is the herbs and spices. These spices give this dish a special, incomparable taste.
Some of the spices that are often used are lemongrass, galangal, ginger, and shallots. Apart from that, kaffir lime leaves and spring onions also add a fresh aroma to the soto sauce.
The cooking process, which combines various spices, takes a long time, but the end result makes every spoonful of soto so delicious. There are several popular variations of Soto Medan, including Soto Medan Sapi, Soto Medan Kaki Lima, and Soto Medan Melayu. Soto Medan Sapi is the most common type, using beef as the main ingredient. Meanwhile, Soto Medan Kaki Lima is simpler and can often be found in roadside stalls with more affordable prices.
Meanwhile, Soto Medan Melayu uses mutton as the main ingredient, giving it a different and unique taste. Soto Medan is usually served with white rice, plus accompaniments such as chips, pieces of rhombus, slices of boiled egg, and prawn crackers. You can also add special chili sauce or lime to enhance the taste of Soto Medan according to your taste.
If you visit Medan, there are several Soto stalls that are very famous and worth trying. One of them is Soto Kesawan which has been around for decades and is famous for its distinctive Soto Medan sauce. Soto Kesawan is a popular place among locals and tourists who want to enjoy authentic Soto Medan dishes.
Medan Soto Recipe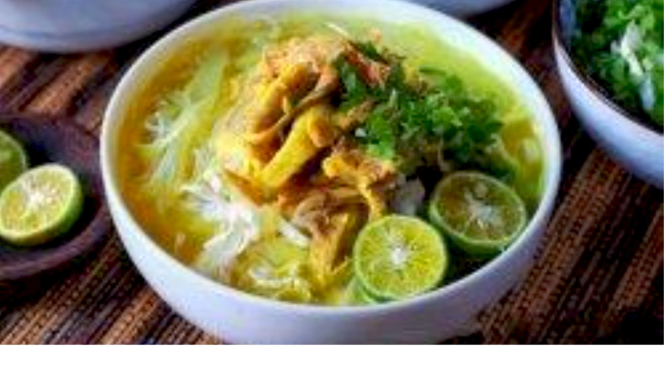 Photo: orami
Soto Medan is a delicious and richly spiced soup dish, becoming one of the most sought-after specialties in North Sumatra. Besides serving a tempting taste, Soto Medan also brings rich history and culture in every taste. Here is the Soto Medan recipe for 4 servings:
Ingredients:
– 500 grams of beef, cut into thin pieces
– 2 liters of beef broth (you can use instant stock or boil beef bones)
– 2 sticks of lemongrass, bruised
– 2 cm galangal, bruised
– 3 kaffir lime leaves
– 2 tablespoons of cooking oil
– 3 cloves of garlic, crushed
– 5 shallots, puree
– 1 teaspoon coriander powder
– 1/2 teaspoon ground pepper
– 1/2 teaspoon ground cumin
– 1 teaspoon salt (to taste)
– 1/2 teaspoon of sugar
– 200 grams of yellow noodles or vermicelli, boiled according to package directions
– Bean sprouts to taste, blanching with hot water
– Leek, thinly sliced
– Fried onions for sprinkling
– Boiled eggs, split into two parts (optional)
– Shrimp crackers for garnish (optional)
– Lime, sliced ​​into pieces (optional)
How to make:
1. Heat cooking oil in a pan. Sauté the garlic and shallots until fragrant.
2. Add the pieces of beef, stir until it changes color.
3. Add coriander powder, ground pepper, and ground cumin. Stir well until the meat is covered with spices.
4. Pour the beef stock into the pot, add the lemon grass, galangal and kaffir lime leaves. Let it boil and cook until the meat becomes tender.
5. After the meat is tender, add salt and sugar. Adjust the taste according to taste.
6. Take a bowl, fill it with yellow noodles or vermicelli, and put blanched bean sprouts on it.
7. Drizzle the noodles and bean sprouts with the cooked Soto Medan sauce.
8. Sprinkle with sliced ​​green onions and fried onions.
9. If you like, add pieces of boiled egg and prawn crackers on top.
10. Serve Soto Medan with lime slices on the side of the plate, so guests can add refreshments according to taste.
Enjoy the warm and delicious Soto Medan! This recipe can be adapted to individual tastes and preferences, so feel free to customize this dish to your liking.