South Korea – U-KISS comeback with a mini album titled PLAY LIST, with the main song Party Tonight on June 28, 2023.
The PLAY LIST mini album contains a tracklist including Party Tonight as the main song, then there are The Wonderful Escape, My Favorite, The Way You Are, Dear.Mom, and Memories.
Here are U-KISS's Party Tonight lyrics complete with Indonesian translation, let's scroll!
Party Tonight Lyrics – U-KISS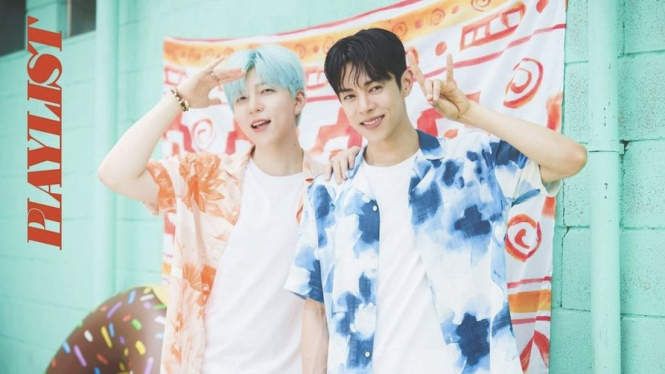 Ha yeah UKISS we're back
let's go
i bameul wonhae beep beep
I don't want to stay down
dance all night
chwihalttaekkaji chum chwo(let's Party)
oneuri gado dance dance
I don't want to stay down
Hey tJ
da gati Party Tonight
tteugeoun taeyang arae
bichin uri dulmanui Party
Oh my babe
Oh taedoneun hwasilhage
sikkeureoun saenggak Stop babe
Oh my babe
go all day
deo jeulgyeobwa
deo jjarishan
No more No way All day
I'mma keep back
So don't hold me back
Come on come on
You & me we're gone bounce right back
oneul maenjeongsineun jeoldae No No
Ring the golden bell
modu bamsae go go
i bameul wonhae beep beep
I don't want to stay down
dance all night
chwihalttaekkaji chum chwo(dance dance)
oneuldo dance dance dance
I don't want to stay down
Hey tJ
da gati Party Tonight
teojineun bulkkocccheoreom
banjjak teojin uriui story
Oh my babe
Oh gomineun jeobeodugo neukkyeobwa
jigeum i Flow babe
Oh my babe
go all day
deo jeulgyeobwa
deo jjarishan
No more No way All day
I'mma keep back
So don't hold me back
Come on come on
You & me we gone bounce right back
imi maenjeongsineun jeoldae No No
Ring the golden bell
ret't bamsae go go
i bameul wonhae beep beep
I don't want to stay down
dance all night
chwihalttaekkaji chum chwo
oneuri gado dance dance
I don't want to stay down
Hey tJ
da gati Party Tonight
i bameul wonhae
dance all night
I'm still a gado
yeongwonhan Party
url wihan Party Tonight
i bameul wonhae beep beep
I don't want to stay down
dance all night
chwihalttaekkaji chum chwo(i bameul wonhae)
oneuldo dance dance dance
I don't want to stay down
Hey tJ
da gati Party Tonight
Feel the beat hit
Yes, we are ready to go
Sinnage Nolgeoya Momeul Matgyeo
I'm on the mic
Yeah And I'm ready to flow
heundureo everybody sorijilleo
Feel the beat hit
Yeah I'm ready to go
jeulgeopge nogeoya
Just follow my flow
Keep dancing all night just momeul matgyeo
heundeureoeeverybody sorijilleo
Party Tonight – U-KISS Lyrics with Indonesian Translation