PeekSeleb – Potato fried sambal is one of the most popular Indonesian dishes throughout the archipelago. With the perfect combination of spicy chili sauce, savory coconut milk, and delicious potatoes, this dish is not only pleasing to the tongue, but also gives a warm sensation in every bite.
The following is a recipe for chili fried potatoes that is easy to follow and perfect for serving at family events or gatherings with friends. Come on, let's see together!
1. List of Ingredients for Potato Fried Sambal Recipe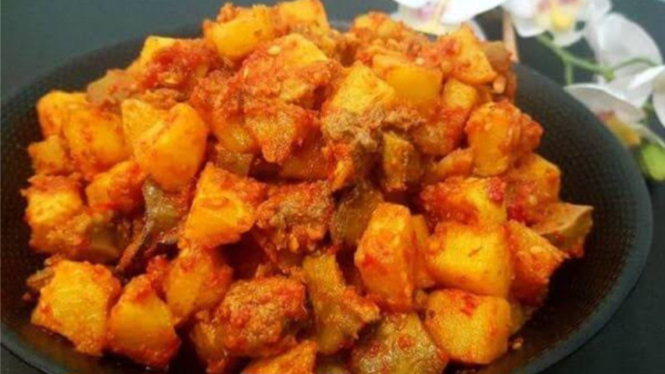 – 500 grams of potatoes, peeled and cut into small cubes
– 200 ml thick coconut milk
– 3 tablespoons of cooking oil
– 3 bay leaves
– 2 pieces of lime leaves, thinly sliced
– 2 sticks of lemongrass, bruised
– 1 knuckle galangal, bruised
– Salt to taste
Ground spices:
– 6 curly red chilies
– 4 bird's eye chilies (according to taste)
– 5 red onions
– 3 cloves of garlic
– 2 cm ginger
– 2 cm turmeric
– 1 teaspoon of shrimp paste (optional)
2. How to Cook Potato Fried Sambal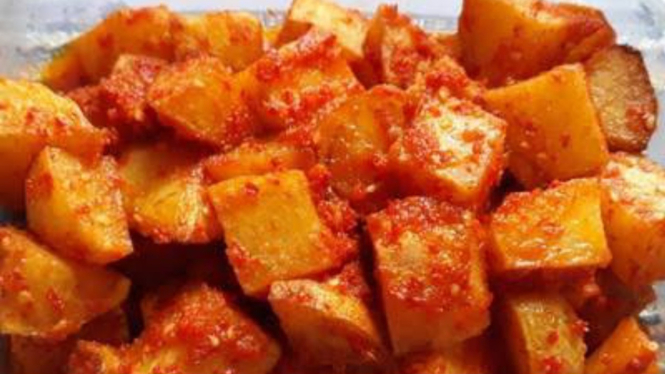 1. First, boil the potatoes in salted water until tender. Once cooked, drain and set aside.
2. Next, grind all the spices listed on the list of spices using a blender or pestle.
3. Heat cooking oil in a skillet over medium heat. Sauté ground spices, bay leaves, lime leaves, lemongrass, and galangal until fragrant and cooked.
4. After the spices are cooked, put thick coconut milk into the pan. Stir well and let the coconut milk boil.
5. Add the boiled potatoes to the pan. Mix well with spices and coconut milk, make sure all the potatoes are well covered.
6. Season with salt to taste according to taste. Stir again and let the potato-fried chili sauce cook with the spices soaking for about 10-15 minutes over low heat.
7. After it's cooked, taste the potato fried chili sauce to make sure the taste is perfect. If necessary, add salt to taste.
8. Remove and serve chili fried potatoes in a serving plate.
Potato fried chili sauce can be enjoyed as a main dish or as a accompaniment to warm white rice. This dish is also suitable for serving at family events, parties or gatherings with friends.
To serve potato fried chili with a more attractive appearance, you can add sliced ​​green onions or celery leaves as a garnish. Apart from that, this dish can also be accompanied by scrambled eggs or fried chicken as a delicious complement. (nes)