PeekSeleb – Peanut cracker recipes can be an inspiration for making snacks to accompany you in your free time. Peanut cake itself is a crunchy and tasty snack made from a mixture of wheat flour and peanuts.
By following these simple steps, you can make your own peanut butter at home and enjoy it with your family and friends. Come on, take a peek at the recipe for making delicious peanut pancakes.
1. Ingredients for the Peanut Cracker Recipe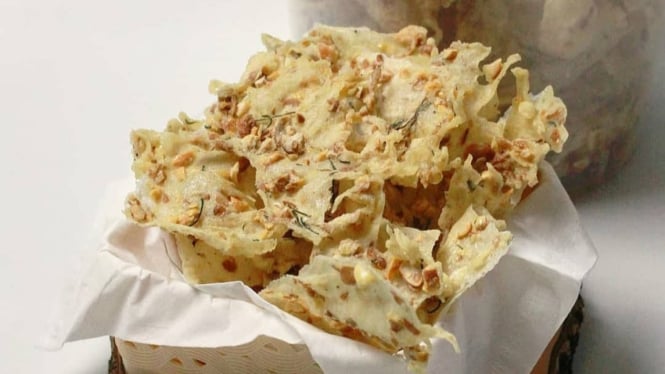 Photo: Instagram/jajanankakakhuma
– 200 grams of all-purpose flour
– 100 grams of peanuts, fried without skin and finely chopped
– 1 teaspoon coriander powder
– 1/2 teaspoon of garlic powder
– 1/2 teaspoon chili powder (optional, if you want it spicy)
– 1/2 teaspoon salt
– 1/4 teaspoon ground pepper
– 200 ml of boiled water
– Enough cooking oil for frying
2. Steps to Make Peanut Cracker Recipe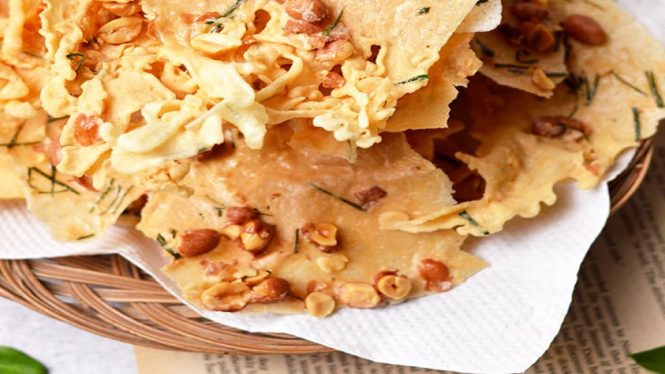 Photo: taste of nusa
1. Combine flour, chopped peanuts, coriander powder, garlic powder, chili powder (if using), salt, and pepper in a large bowl. Stir well until all the ingredients are well mixed.
2. Add boiled water little by little to the mixture while continuing to stir. The goal is to achieve a fairly runny batter consistency, similar to pancake batter. Make sure there are no lumps of flour.
3. Heat oil in a skillet over medium heat. Make sure the pan and oil are hot enough before starting to fry.
4. Take a teaspoon of the mixture and carefully pour it into the hot oil. You can check the temperature of the oil by dipping the tip of a spoon into the oil. If bubbles appear around the spoon, the oil is hot enough.
5. Fry the dough in oil until it is browned and crispy. Be sure to turn the dough so that it cooks evenly. Do this in batches, depending on the size of the pan and amount of batter.
6. Once cooked, remove the peanut brittle from the oil using a silk or a frying pan lined with paper towels to absorb the excess oil.
7. Let the peanut crackers cool and pat dry on parchment paper or paper towels to keep them crunchy.
8. Repeat the frying process until all the dough is used up.
9. Peanut crackers are ready to be served. You can store it in an airtight container to keep it delicious.
Now, you have a simple recipe for making peanut butter at home. Enjoy this delicious snack while relaxing or as a mouth-watering appetizer. Good luck and good luck! (jra)