PeekSeleb – Soufflé pancakes are a delicious and light variant of the traditional pancake. Soft and fluffy like clouds, soufflé pancakes are the perfect dish for a special breakfast or brunch.
In this article, we'll walk you through the steps to make delicious soufflé pancakes at home. Follow this recipe carefully, and you will enjoy soft, tempting and fluffy pancakes.
Materials needed: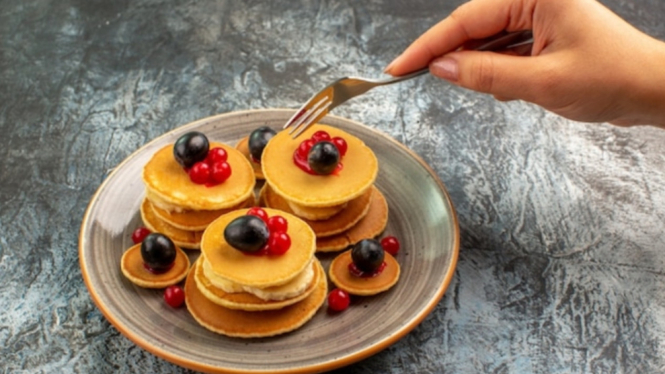 Photo : Freepik.com
3 eggs, separate the whites and yolks.
•1/4 cup (60 ml) of liquid milk.
1/2 teaspoon of vanilla extract.
•1/2 cup (60 grams) of all-purpose flour.
1 teaspoon of baking powder.
1/4 teaspoon salt.
2 tablespoons of granulated sugar.
Oil or butter for greasing the pan.
Steps: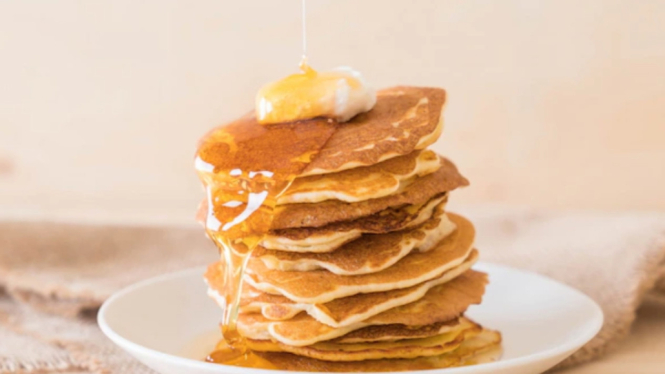 Photo : Freepik.com
1. In a large bowl, beat the egg yolks with a whisk until soft and pale yellow.
2. Add liquid milk and vanilla extract to the egg yolks. Stir well.
3. In a separate bowl, sift flour, baking powder and salt.
4. Mix in the egg yolks and stir until evenly mixed. Don't stir too much so the dough doesn't clump.
5. In a separate, clean bowl, beat the egg whites using an electric mixer on high speed until frothy.
6. Gradually add the granulated sugar to the egg whites that are being beaten while continuing to beat until fluffy and form soft peaks. Make sure the sugar is completely dissolved.
7. Mix about 1/3 of the beaten egg whites into the yolk mixture. Stir gently with a spatula in a circular motion, then gradually add the remaining egg whites while continuing to fold the dough. Be sure not to mix too hard to prevent air from escaping the mixture.
8. Heat a flat non-stick skillet over medium heat. Spread with a little oil or butter.
9. Pour the soufflé pancake mixture into the pan with a ladle. Make pancakes about 10 cm in diameter and about 2 cm in thickness.
10. Cover the pan and let the pancakes rise for about 2-3 minutes or until the surface is frothy and hollow.
11. Use a wide spatula to carefully turn the pancakes over. Cook the pancakes on the other side for 1-2 minutes or until just cooked through.
12. Remove the pancakes from the pan and place them on a serving plate. Repeat this process for the remaining dough.
13. Soufflé pancakes are ready to be served. You can add toppings of your choice such as honey, maple syrup, fresh fruit or whipped cream.
Conclusion:
Making soufflé pancakes at home is not as difficult as it might seem. By following the steps above, you can make fluffy, fluffy, and delicious pancakes at home. Feel free to experiment with your favorite toppings and sauces to add variety to the flavors. Enjoy these soufflé pancakes as a special breakfast dish or a delicious midday snack. (rth)