South Korea – BTS member J-Hope wrote a message of emotion for fans. He informed ARMYs that he had become an assistant instructor at the Military Camp.
So, what is the emotional message from J-Hope BTS for ARMY? Come on, take a peek at the article below!
J-Hope Writes Haru's Message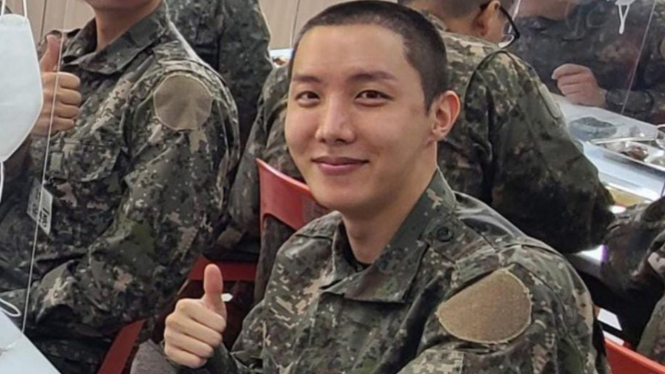 On July 8, J-Hope BTS surprised fans with a post on Weverse. He has been serving as an assistant instructor for recruits at his training center, located in Wonju, Gangwon Province, home of the ROK army's 36th Homeland Defense Infantry Division.
"ARMYs!! How are you??? It's been a great weekend. I have been serving as an assistant instructor for recruits after completing a course for assistant instructor at the 36th Infantry Division's Recruit Training Center. I don't have time to update you all because I'm very busy every day, as expected. I wanted to keep you updated even if it's brief, so here I am." wrote J-Hope BTS reported on Weverse, Sunday, July 9, 2023.
"I can't help but think of J-Hope around this time last year as I was on duty in this hot July weather. Both are very different sides of me but I feel my heart full of passion for the future remains the same!!!! I want to tell you all that I live as Jung Ho Seok and j-hope whenever and wherever I am haha," he continued.