South Korea – On July 20, Eunchae released a new episode of her YouTube content show titled Eunchae's Star Diary. In the latest episode, Eunchae appeared with Xiumin, , and Chanyeol EXO.
During the conversation with the three EXO members, there were many things that made me laugh and managed to go viral. One of them, when Baekhyun EXO gave advice to Eunchae. Here's more!
The reason Baekhyun EXO suddenly went viral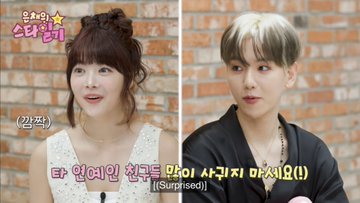 Source: Eunchae's Star Diary
Even though the content of Eunchae's Star Diary is light, it has managed to attract attention and go viral on various social media. Baekhyun suddenly went viral for giving advice so that the LE SSERAFIM group could last. Considering EXO has more than ten years of experience in the industry, Eunchae asked for advice on how LE SSERAFIM can continue to be a great group after a long time.
Baekhyun took the lead and explained that LE SSERAFIM was already in a good position because he realized that they all love performing, adding that it was important not to lose interest in this part of their career.
Chanyeol then emphasized how important it is to be close to the members. Take into account that idols hang out with their members more than anyone else. Chanyeol emphasized the importance of strong bonds.