PeekSeleb – Recently the battle between Neynis Food and Nyoo Salad is going viral on social media. The two products are currently becoming a public concern with Fruit Salad being their mainstay.
But instead of getting dizzy with the competition between the two products. It would be better if you make your own Fruit Salad at home. To help you lovers of Fruit Salad, let's take a peek at 2 Fruit Salad recipes:
Fruit Salad Recipe With Orange Sauce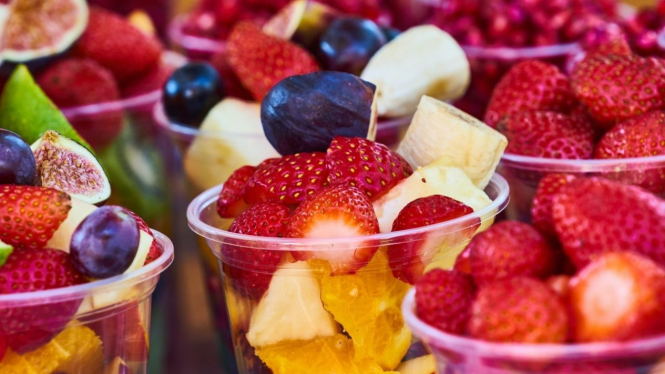 Photo : pexels/engin
Ingredients for fruit salad:
-Strawberries
– Blueberries
– Apple
– Wine
– Pineapple
– Pear
– Dragon fruit
Ingredients for the sauce:
– 1 block of cream cheese (softened)
– ½ cup real orange juice (no sugar)
How to make a fruit salad:
– Make the sauce using a mixer. Beat the cream cheese until there are no lumps left then pour in the orange juice and stir again. Put it in the refrigerator for a while.
– Dice all the fruit and place it in a container. To get an appetizing display of presentation, arrange the fruits neatly. Take the orange cheese cream from the refrigerator, the fruit salad is ready to be enjoyed. The fruits above can be replaced according to taste.
Yogurt Sauce Fruit Salad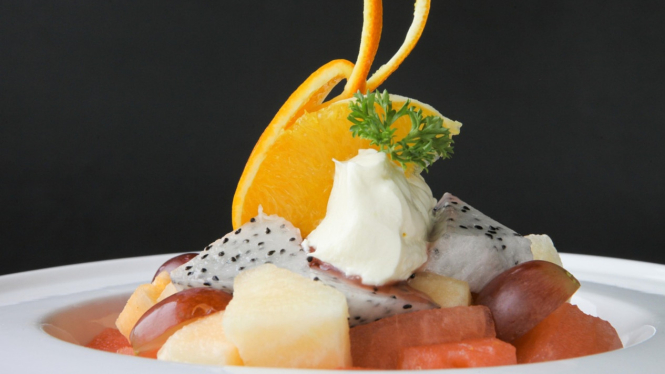 Photo: Pixabay
Ingredients for fruit salad:
– Apples, diced
– Pears, diced
– Oranges, peeled and cut lengthwise
– Ripe mango, diced
– Kiwi, peeled and diced
– Red or green grapes, halved
– Strawberries, halved
– Blueberries
– Nata de coco (optional, if you like)
Ingredients for the sauce:
– 1 cup plain yogurt (unflavored)
– 1/2 cup fresh milk
– 1/2 cup grated cheddar cheese
– 2 tablespoons of honey
– 1 teaspoon of vanilla extract
How to make a fruit salad:
– Prepare all the fruits, wash them clean, and cut them to the desired size.
– Mix all the fruits in a large bowl.
– Add nata de coco if you use it.
– Stir gently so that the fruits are evenly mixed.
– Keep the fruit salad bowl in the refrigerator while you make the dressing.
How to make the sauce:
– In a small bowl, combine plain yogurt, fresh milk, grated cheddar cheese, honey and vanilla extract.
– Stir until all the ingredients are well blended and the sauce becomes soft.
Presentation:
– Remove the fruit salad bowl from the fridge.
– Pour the yogurt, milk and cheese sauce over the fruit salad according to taste. You can drizzle the dressing over the entire salad or serve it on the side of a bowl as a side dressing.
– Garnish the fruit salad with fresh mint leaves on top.
– Fruit salad with yogurt, milk and cheese sauce is ready to be served.
Enjoy a fresh fruit salad with a creamy and delicious dressing! Enjoy the sweet and sour combination of fresh fruits with a creamy sauce that has a savory taste of cheddar cheese. Good luck!