PeekSeleb – Earning the nickname 'Bintaro Pride' Kama Ruang, which was established in February 2023, has begun to explore opportunities for the world of F&B in Bintaro. It has 5 buildings and open space inside, namely Kama Kopi, Kama Resto, Kama Kreatif, Amphitheater and Sky Deck which stand firmly on 2,500 meters2 of land.
Intrigued by the coffee shop? Come on, take a peek at the portrait below.
Kama Coffee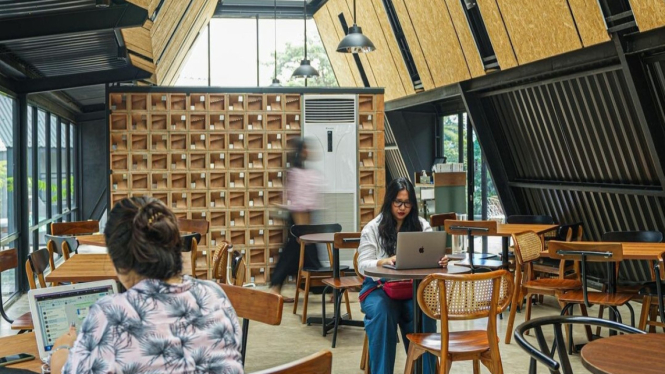 Photo : Instagram/@kama.ruang
One of the Kama Ruang buildings with an area of ​​156 meters2, Kama Kopi consists of a Smoking and Non Smoking area designed by carrying out the Grab and Go industrial concept and glass elements coated with Solarguard are able to create an attractive aesthetic and visual atmosphere.
Various Indonesian coffee and food offerings are offered, ranging from Arabica and Robusta, visitors can enjoy a relaxed coffee drinking experience and are no less luxurious than similar coffee shops. Kama Kopi is also proud to serve a variety of Indonesian specialties curated by an executive chef, using local ingredients to create delicious dishes.
With a combination of interesting architectural design, good quality coffee and dishes. Kama Kopi is a venue space that is perfect for relaxing with family, relatives, and celebrating various events such as; birthday events, intimate engagement, private events, to creating creative content for social media.
Kama Resto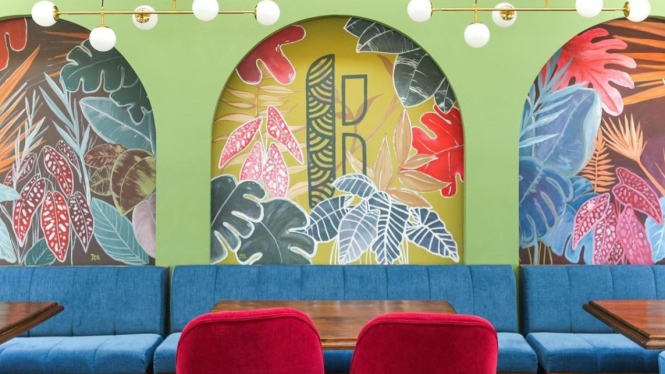 Photo : Instagram/@kama.ruang
Building with an area of ​​154 meters2, Kama Resto is an exclusive venue space designed to serve a menu of local to western dishes capable of providing a semi-fine dining experience, with high-quality interior design and perfectly adjustable lighting to create an intimate atmosphere for a special banquet.
In addition, Kama Resto offers layout flexibility that can be adjusted to client needs, spacious indoor and outdoor areas, banquet rooms, and complete WiFi to audio-visual facilities making Kama Resto the right venue space to hold various kinds of events, from simple to big events such as family gatherings, social gatherings, wedding receptions to corporate gatherings or other big events.
Creative Kama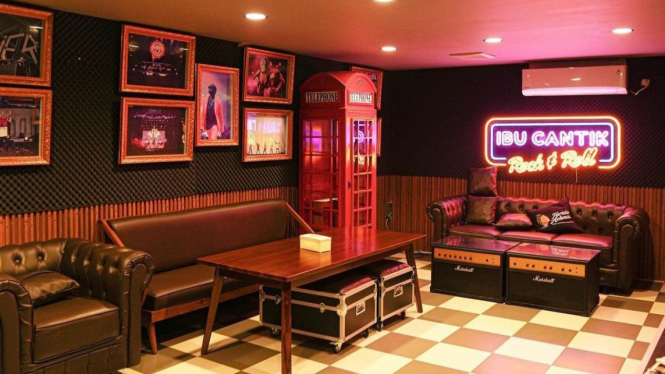 Photo : Instagram/@kama.ruang
In Kama Creative, Kama friends can hold informal meetings such as social gatherings and casual meetings, while enjoying the karaoke facilities provided by Kama Ruang. So that the building which has an area of ​​72 meters2 with a maximum capacity of 8-12 pax in each room is able to provide opportunities for Friends of Kama to have fun and socialize in a relaxed atmosphere.
Kama Creative offers a variety of interesting concepts. Starting from the Rocktar Studio for band players who want to practice and collaborate, the Cash Room for casual meetings', Bathrooms with unique interiors, to the K-POP Room which is sure to be in demand by K-POP lovers. These concepts provide interesting variations for visitors and create a unique experience according to their interests.
Apart from that, Kama Ruang also features facilities such as karaoke, live streaming, podcasts, and band practice. This provides opportunities for individuals or groups to share content live, record podcasts, or practice together as a band. This facility is the main attraction that distinguishes Kama Ruang from similar event venues in the Bintaro and South Tangerang areas.
Amphitheater & Sky Deck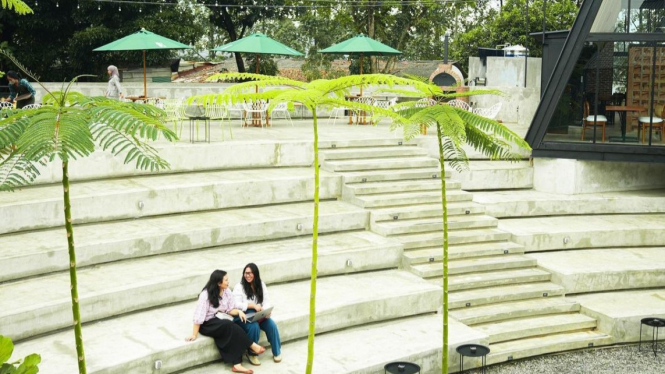 Photo : Instagram/@kama.ruang
The first amphitheater and Sky deck in Bintaro which has an area of ​​195 meters2 is an open space built with semi-circular stairs specially designed for performances such as cultural festivals, theatre, music concerts, corporate events and is the best spot for visitors to be able to enjoy the sunset at Kama Ruang while enjoying the delicious dishes that Kama Ruang serves.