South Korea – Recently, Yoo Ah In's friend, a YouTuber with 300,000 subscribers, has been named a drug suspect, but without detention. At that time, his identity was still hidden.
The day after, the Youtuber finally revealed who he was and wrote an apology. Here's more!
The identity of a YouTuber friend of Yoo Ah In who uses drugs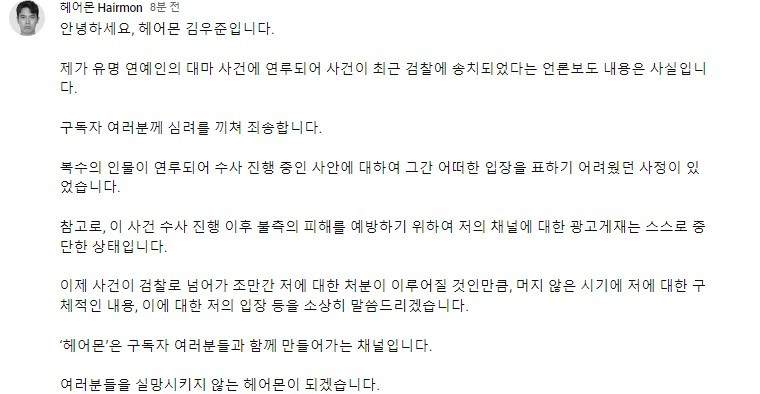 Source: YouTube/Hairmon
Hairstylist/YouTuber Hairmon (Kim Woo Jun) has admitted that he is a well-known YouTuber who was handed over to the prosecution in relation to a drug case with actor Yoo Ah In. Hairmon revealed this to their YouTube community on July 18 and apologized for causing concern among their subscribers.
In his statement, Hairmon addressed recent press reports regarding his involvement in high-profile celebrity marijuana cases. He explained that due to the involvement of many individuals and ongoing investigations, he found it difficult to take a stand or provide detailed information.
Consequently, he decided to stop posting announcements on his channel to prevent further losses. Now that the case has been transferred to the prosecution, he anticipates that a decision regarding his involvement will be made in time. Hairmon assures his audience that he will provide a comprehensive report on his position and personal circumstances surrounding the case in the near future.