South Korea – The Boyz will hold a concert in Indonesia on Saturday, 29 July 2023 at Beach City International Stadium. Last May, the Boyz released Delicious, which according to IST Entertainment, is The Boyz's 2nd Japanese album topped the Oricon Daily Album Chart.
On the Oricon chart and the Japanese Tower Records daily album chart, the regular and limited edition versions ranked first and second respectively. Besides, after releasing the new song, The Boyz achieved good results when taking second place on the K-pop album chart on iTunes in Japan.
So, what are the lyrics of the song Delicious – The Boyz like? Come on, take a peek at the article below!
Delicious Lyrics – The Boyz
Do you know this Hohoemu abatā
Mirai wa You know, You know kowakunai
Need that yum yum with that yum yum (Three, Two, One)
Need hum hum with that hum hum (My favorite)
Woo wa yaru Pulse itsumo Phone kakaete (mitsume tetai)
My miserarete oborete
Baby baby yonayona Cruising
This game is tobikomitai
Mekurumeku You're a roller coaster
Ai ni iku yo
Imagination's non-fiction
Yes, our life is so delicious
So precious and sweet
So delicious
Ajiwai tsukusu yo Delicious
Doko made mo
Amakya amai hodo Better, Better, Better
Oh hitomi tojireba
Motto fukaku kanji rareru
You and me kyō mo sekai wa So delicious
Hamaru Race midasu Pace itsumo Blah, Blah -tai wa Says
Need that yum yum with that yum yum (Three, Two, One)
Need hum hum with that hum hum (My favorite)
Nani ni shiyou kimi mo sō mayoudaro? (I can feel it now)
Whether you laugh, whether you cry
Subete ga sutekina Emotion
Mayotte Kime Tatte
Tsugitsugi kuru Roller coaster
Your Noriko yo
Imagination's non-fiction
Yes, our life is so delicious
So precious and sweet
So delicious
Ajiwai tsukusu yo Delicious
Mainichi ga
Amaku mo nigaku mo Better, Better, Better
Oh kimi o omoeba
Motto fukaku kanji rareru
You and me kyō mo sekai wa
So delicious
Oh-oh-oh-oh, I wanna wanna show you what I got what I got
Oh-oh-oh-oh, Hey I'm here, I'm here, I'm here, I'm by your side
I don't care about the past, the or mistakes or the future
Ima kono toki o kimi to itai nda
Baby, All day and night -kun to tsunagatte itai nda Yeah
(I promise you yeah…)
Yeah, our life is so delicious
So precious and sweet
So delicious
Ajiwai tsukusu yo Delicious
Hata ni kimigaireba-sō Better, Better, Better
Oh hitomi tojireba
Motto fukaku kanji rareru
You and me kyō mo sekai wa So delicious
Ticktack ticktack, time is precious
Ticktack ticktack, time is precious
Ticktack ticktack, time is precious
Tomoni ikou Baby, We belong together
Oh kimi o omoeba
Motto fukaku kanji rareru
You and me kyō mo sekai wa So delicious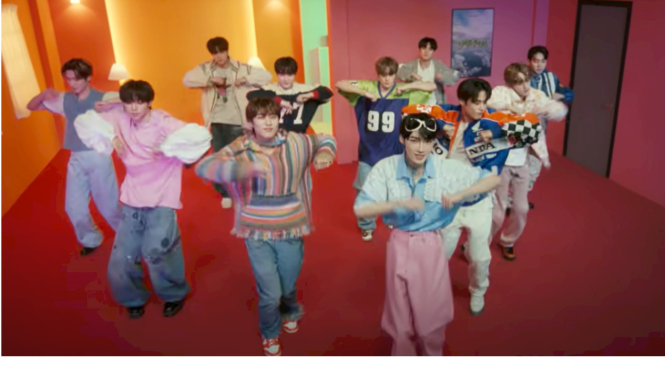 Photo : Youtube/theboyz
Do you know this smiling avatar
The future is you know, you know I'm not afraid
Need that yum yum with that yum yum (Three, Two, One)
Need a hum hum with that hum hum (My favorite)
Woo, I'll do the Pulse Always hold my phone (I want to stare)
I'm drowning in enchantment
Baby baby Night after night Sailing
I want to dive into the screen
Mekurumeku you're a roller coaster
i will meet you
Non-fiction imagination
Yes, our life is so delicious
So precious and sweet
So delicious
Delicious
Anywhere
The sweeter the sweeter the better, the better, the better
Oh if I close my eyes
feel deeper
You and me The world is so delicious today
Addictive race disturbing Speed ​​Always Blah, Blah My Body Says
Need that yum yum with that yum yum (Three, Two, One)
Need a hum hum with that hum hum (My favorite)
What do I have to do? (I can feel it now)
Did you laugh, did you cry
All good. Emotions
I hesitated and decided
One by one Roller coaster
I'm going in
Non-fiction imagination
Yes, our life is so delicious
So precious and sweet
So delicious
Delicious
every day
Sweet or bitter Better, better, better
Oh when I think of you
feel deeper
You and me The world is so delicious today
Oh-oh-oh-oh, I wanna show you what I got
Oh-oh-oh-oh, Hey I'm here, I'm here, I'm here, I'm beside you
side
I don't care about the past, or mistakes or the future
I want to spend this time with you
Baby, all day and night I want to connect with you Yeah
(I promise you ya…)
Yes, our life is so delicious
So precious and sweet
So delicious
Delicious
If you're by my side, yeah better, better, better
Oh if I close my eyes
feel deeper
You and me The world is so delicious today
Ticktack ticktack, time is precious
Ticktack ticktack, time is precious
Ticktack ticktack, time is precious
Let's go together Baby, we belong together
Oh when I think of you
feel deeper
You and me The world is so delicious today. (bbi)